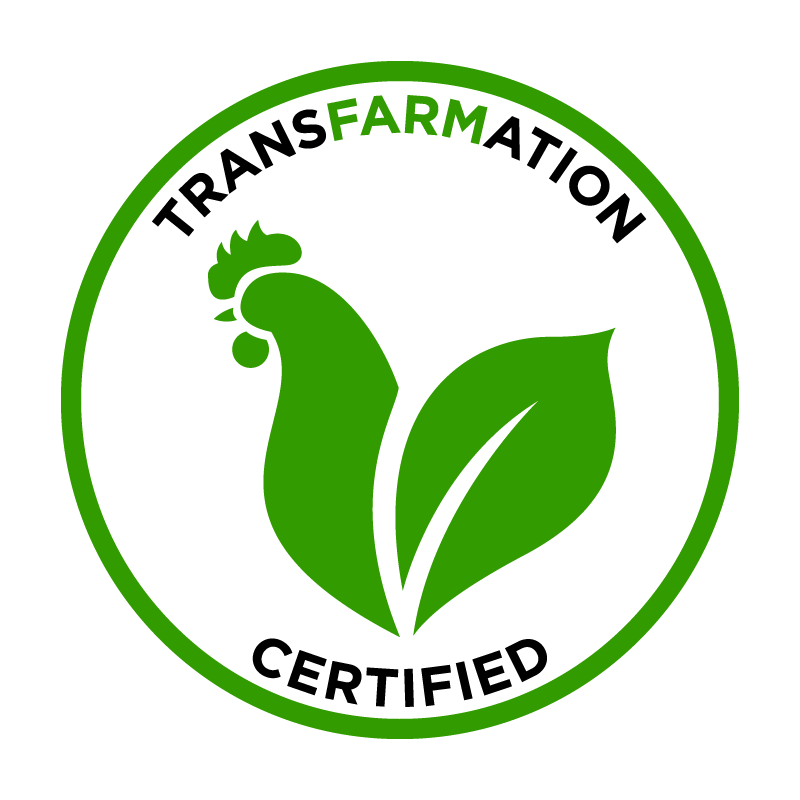 What is the Transfarmation certification?
The Transfarmation certification verifies that a crop originates from a farm that has been approved and certified by Transfarmation. On produce packaging, the Transfarmation Certified logo identifies to the consumer that the produce came from a farm that has transitioned from animal agriculture to plant-focused agriculture—that is, growing crops for consumption as produce or as ingredients in products using only inputs of plant origin.
Who can use the Transfarmation Certified logo?
Transfarmation Certified farmers who produce consumer-facing goods are eligible to display the Transfarmation Certified logo on their product packaging. Their outlet premises and relevant branding may also bear the seal. These include but are not limited to the following:
Grocery stores and retailers
At supermarkets, retail outlets, and online stores, produce may display the seal, and ingredients in products may be labeled Transfarmation Certified.
Example: Certified mushrooms in the produce section may sport the logo.
Example: Certified hemp may be labeled as such on CBD oil packaging; however, the product as a whole may not claim certification.
Restaurants and dining halls
At restaurants and dining halls, ingredients sourced from transitioned farms may be labeled Transfarmation Certified in menu descriptions, and restaurant fronts may advertise the Transfarmation Certified logo.
Other outlets and opportunities
Farmers may display their Transfarmation certification on applications to become suppliers for grocery stores, retailers, or restaurants; at farmers market stands; or on their websites.
Products containing produce from transitioned farms as ingredients may display the Transfarmation Certified logo only if the entire product is 100 percent plant-based. Produce from transitioned farms used as ingredients in non-plant-based products may be labeled Transfarmation Certified, but the packaging may not display the seal.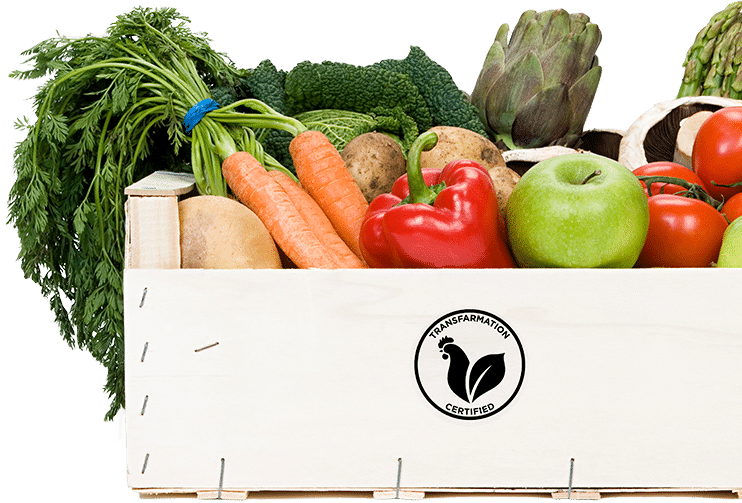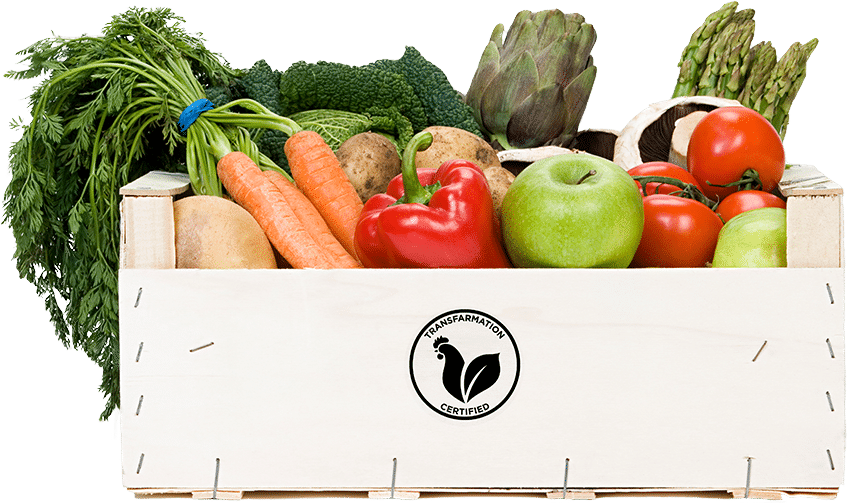 What are the Transfarmation certification standards?
Our Core Beliefs
At Transfarmation, we are true to our core beliefs:
Farmers deserve fair income for their work.
Farmers can and should be leaders and our partners in creating a more sustainable food system.
Transitioning from animal agriculture to plant-focused agriculture results in a better future for farmers, consumers, animals, and our environment.
In line with our core beliefs, we have established the following standards for the Transfarmation certification program:
Plant-Focused Agriculture Standard
To qualify for certification, farms must have fully transitioned to plant-focused agriculture. In other words, they must be 100 percent animal-free.*

Product Quality Standard
Certified farms must meet and comply with industry quality standards as set by the U.S. Department of Agriculture's Agricultural Marketing Service or other regulatory authorities. The standards vary from crop to crop. As to our program's current offerings, the standards are outlinked below:**
*An animal farm that retires the animals and provides them with a home—that is, serves as a sanctuary—is still eligible for certification. The farm must not derive any financial benefit from the use of animals as production units and must dedicate its time to helping and healing animals in need.
**While links are provided for reference, it is the responsibility of the farm to know which standards must be met and to meet and comply with such standards.
Why buy from Transfarmation Certified farms?
When consumers purchase products that are Transfarmation Certified, they can rest assured that they are supporting the growing movement toward a food system that is empowering farmers to be part of the solution. The Transfarmation certification enables consumers to partake in the creation of a new food system grounded in compassion, sustainability, and equity.
Get your farm Transfarmation Certified today. To learn more please email us at [email protected], or fill out the inquiry form below.